Asian Tours
We offer 5 distinct Asian tours. Each of these tours is 6 hours. They normally begin at 9:30 AM and end at 3:30 PM. However, we can be flexible with the scheduling. We try to schedule such tours between the morning and evening rush hours. If one wants an abbreviated tour, we can accommodate you and the price will be reduced. With a 5-hour tour, we can delete stopping and going into sites. If one wants a 4-hour or shorter tour, we typically delete sites and lunch.
Let us know if you want a customized tour of strictly one culture, such as Chinese, Indian, Islamic, Jewish, Vietnamese, or another. We will be glad to create such a tour for you.
The five tours we offer are:
---
Tour A — Central and East Houston - East Asian Tour
This tour is located in central, east, and southeast Houston. Tour the original Chinatown. Drive by the historic, but dilapidated Kim Hung Market. Shop at the Hong Kong Food Market where over a dozen stores exist or at one of the Vietnamese strip centers located south of downtown in the Vietnamtown. Tour the Tien Hou/Sun Young Taoist Temple that is both Buddhist and Taoist, and the Texas Guandi Temple that is Buddhist. Stop for lunch at a Vietnamese or Chinese restaurant. Visit Vietnam Town, the Asian Flower market, the Japanese Garden with its tearoom, a 2009 statue of Confucius, a Chinese pagoda, and a Japanese lantern monument, and architect Yoshio Taniguchi's Asia Society Texas Center that opened in 2012. Drive by the Chinese consulate.
---
Tour B — West Houston - East Asian Tour
This tour is west of I-610, from the Galleria area to beyond Beltway 8. It goes into Sugar Land. Drive by the Buddhist Compassion Relief Tgu Chi Foundation, the four corners of banks, and the Teo Chew Temple. Have lunch with an option for dim sum and shop at Hong Kong City Mall. Point out and take photographs of the Vietnam Monument and the Refugees Monument. Drive past the Jade Buddhist Temple, the First Taiwanese Lutheran Church, and stop at the Vietnam Buddhist Center to see the statue of Quan Am. Drive by the Vietnam consulate. Lastly, tour the sanctuary, museum, and garden and have an optional tea ceremony at the Chung-Mei Buddhist Temple.
---
Tour C — South, Central, and Near West Houston - South Asian Tour
This tour is in Houston and Pearland. Tour the Shri Meenakshi Devasthanam mandir. Go to the Indian Culture Center. Shop in the Mahatma Gandhi District. Do you want a fake designer purse, perfume, jewelry, sari, or silkscreen shirt? The Mahatma Gandhi District is the place to go. See the Mohandas Gandhi statue. Have lunch at an Indian buffet or Pakastani restaurant. Possibly tour the Hare Krishna temple, time permitting.
---
Tour D — West and Northwest Houston - South Asian Tour
This tour is in Houston and Stafford. Tour the Shri Swaminarayan Mandir (BAPS), a Sikh temple, and the Jain temple. Lunch is at an Indian buffet. Go by the Indian Culture Center. See and shop in Indian stores.
---
Tour E — Central, Southwest, and West Houston - Southwest Asian Tour
Tour one mosque and one synagogue or temple. Drive by other houses of worship. Visit an Islamic school and community center. Shop in an Islamic area of stores. Visit a Zoroastrian center. Lunch is at a halal or kosher restaurant. Go by the Egyptian, Israeli, Qatar, and Saudi consulates.
---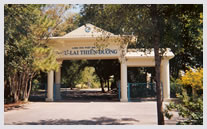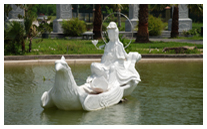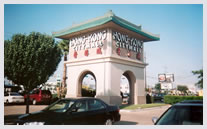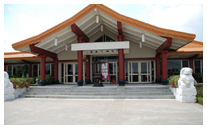 ---