African American / Black History Tours
We offer 7 different African American tours. Each is 6 hours. They normally begin at 9:00 AM and end at 3:00 PM. Each includes a stop for lunch, normally at a traditional African American restaurant of barbecue, soul, Creole or some such food. Houston had political subdivisions called wards from 1837 through 1915. Most of present-day Houston did not exist at the time of the wards. They were divided along the intersection of Main Street and Congress Street in downtown Houston and only went as far north as Buffalo Bayou. The First and Second Wards were only about 3 blocks deep (Commerce Street and Franklin Street), from Buffalo Bayou to Congress Street. The Third and Fourth Wards went on endlessly. Northwest Houston was 1st Ward. Northeast Houston was 2nd Ward. Southeast Houston was 3rd Ward. Southwest Houston was 4th Ward. This was once all of Houston. Many, if not most, people misuse the term and misidentify the wards.
The seven tours are:
---
Tour A —Southeast Houston of Harrisburg, South Park, Riverside Terrace, and Timbercrest, east of SH 288
This includes a walking tour of the oldest African American cemetery in Houston. It dates to the era of slavery and the first plantations in the Houston area. This location is in an area that was originally a city named Harrisburg. Houston annexed it, in 1926. The Yellow Rose of Texas made history in Harrisburg. Six historic African American churches still exist in this largely barrio. We also visit Southpark, an area where the Shrine of the Black Madonna church stands. Several African American neighborhood institutions exist in this area, including restaurants, funeral homes, barbershops, nail shops, and ballrooms. Most of this area was designed in the post-World War II period. We drive through MacGregor Park and will see the statue of Martin Luther King, Jr. that was erected in 2014. We then go to Riverside Terrace and Timbercrest. These were the two most exclusive African American neighborhoods in the US in the 1950s and 1960s. We stop for lunch at a bar-b-que restaurant, Frenchy's Chicken, or This Is It for soul food. We will drive by the largest African American Catholic church in the city. We will see both the current Jack Yates High School and the original "Jack Yates Colored High School." We visit Texas Southern University (TSU), one of the last historically African American universities and colleges and the second largest in the US. We will see the former "Houston Negro Hospital," Trinity United Methodist Church that is the oldest African American congregation in Houston, Project Row Houses, Dupree Park, Emancipation Park, and the "Sixth Church of Christ Science (Colored)."
---
Tour B — (Near Southeast Side) – 3rd Ward
This tour focuses on several institutions of high culture – theaters and museums, as well as churches and businesses. We visit the Buffalo Soldiers National Museum. We will see the former site of the House of Dereon, where Beyonce, Solange, and Destiny's Child have recorded. We will drive by the Houston Branch of the NAACP, the Houston Museum of African American Culture, the oldest and largest professional African American theater in the Southwest – The Ensemble Theatre, and, if open, the Community Artists' Collective. We will see the church that Beyonce Knowles and Kelly Rowland have attended and the oldest African American Catholic church in Houston. Lunch is normally at either a Jamaican or soul food restaurant on Almeda Road or a Luby's cafeteria.
---
Tour C —(West Side) – 1st, 4th, and 6th Ward
This tour includes going to the site of the worst race riot in Houston history, Houston's third oldest housing project and site of the first African American hospital, the oldest African American church in Houston, Freedmen's Town, the African American Library at the Gregory School, and more. See where Jack Yates preached, his home, and where he is buried, as well as his son newspaper publisher Rutherford B. H. Yates. You will see the homes of late 1800s' Black pioneers in Houston, including the Reverend Ned P. Pullum and attorney J. Vance Lewis, and mid-1900s' entrepreneur Don Robey. Two of the four oldest African American cemeteries in Houston are on this tour. At the current time, no traditional African American restaurant exists in this area. Lunch is normally at a Cajun restaurant or Luby's cafeteria in the 4th Ward.
---
Tour D —(North Side) – Acres Home, Highland Heights, Kashmere Garden, and the 5th Wards
This tour will bring you to some of the most distinctively African American areas of Houston. It includes driving by the current Phillis Wheatley High School, the site of the original Wheatley High School, and past the second Phillis Wheatley high school, Evergreen Negro Cemetery, where the city paved a street through it, the former Peacock Records, Paradise North Cemetery, Julia C. Hester House, the childhood home of Barbara Jordan, George Foreman's gym, the African American St. Elizabeth Hospital, the 2nd oldest housing project in Houston, numerous churches, elementary and middle schools, and colorful murals. See historical markers identifying Frenchtown and Zydeco Music. Lunch is at a favorite bar-be-cue place.
---
Tour E —(South Side) – Sunnyside and Ranches
Visit three or four local African-American ranches. Learn of the contribution of Blacks in rural Texas as cowboys and owners of ranches. You might have an opportunity to see some roping and ride a horse! You will also see the last subdivision established in Houston to be a segregated African American community. Separate fees exist for admission to the American Cowboy Museum and ranches.
---
Tour F — A Plantation and Independence Heights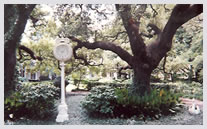 This tour will take you through an 1800s plantation that once had over 300 slaves for a guided tour and the first city in Texas established by African-Americans. The house is open to tour and one of the sheds may be a former slave quarter. You can enjoy lunch at a traditional African-American bar-b-cue or soul food restaurant. Houston to the plantation is 50 miles/80 kilometers from Houston. This tour is generally available only on the first Saturday of the month. The drive is approximately 1 hour to and 1 hour from the plantation. A separate fee exists for touring the plantation. The plantation is normally only open on the first Saturday of each month, for a reenactment on the weekend before Thanksgiving in November, and by special appointment.
.
---
Tour G — Tour of Galveston
This tour includes seeing the sites of famous Galvestonians including the first heavyweight boxing champion, Jack Johnson, and the 1800s civil rights leader, Norris Wright Cuney. See the historic Black cemetery where one of the founders of the Deltas is buried, churches, segregated "Colored" public schools, parks, and the hundred year plus homes of Black families. See Texas's first African American African Methodist Episcopal Church Reedy Chapel AME Church, Texas's first African American Baptist church Avenue L Missionary Baptist Church, Texas's first African American Catholic church Holy Rosary Catholic Church, and Texas's first African American Episcopal church Saint Augustine Episcopal Church. Visit the site at Ashton Villa where the Emancipation Proclamation was read on June 19th 1865, leading to over 100 years of Juneteenth celebrations. Lunch is at a traditional African American bar-be-cue or seafood restaurant. Houston to Galveston is 51.2 miles/82.4 kilometers. The drive is approximately 1 hour.
---